During the late 70s two events occurred at HPI Institute that have since affected the direction of my life.
WHO projects: One was a visit of Dr. George Beagrie who I first met Scotland on one of my tours of 3-day courses. He was a teacher at a dental school there. He later moved to Toronto U. in Canada and then on to the U. of British Columbia in Vancouver as the dean. I was most focused on our new clinic computers and the possibility of programming them 100% with numeric terms that eliminated the headaches of the mixture of Latin-English, Japanese and German terms. However George was most interested in the clinical skill of his students which centered on their finger-forearm control. HPI had installed a 'simulator' that caught George's attention. It was designed so that an instructor could view the finger positions and movements of 10 students in 2 close rows. George decided to install 40 simulator stations for 40-student classes.
He knew David Barmes who was the head of the oral health unit in WHO (World Health Organization) .George introduced him to me. David's primary interest was collecting reliable data on the health and disorders of worldwide mouths and government policies that could improve mouth health through community administrated prevention of mouth disease and self care.  George's high interest was improving the quality of dentist procedure though well-controlled fingers that would reduce re-treatment rates.
WHO at first assumed I was centered on the interest of dentists since a large dental clinic was part of HPI (the Human Performance Institute). However the interest of dentist-centered groups had never grabbed me because I more closely related to the feelings of farmers with whom I was raised. This farm based background later connected well with the projects WHO assigned me in the 1980s.
By the end of the 70s, WHO was sending people from many countries to HPI to confirm whether my aims were compatible with the WHO reason for existence. After they confirmed our views were compatible they searched for a country to send me. It finally became a choice between Thailand and Brazil so I was sent to Brazil before being finally sent to Thailand to help plans for a community care project. I also spent much time in the WHO headquarters in Geneva, Switzerland. WHO has several regional offices. The chief of the Southeast Asia office who was Japanese felt I should be assigned from his office but the headquarters had different ideas. The discussion between WHO headquarters and their regional office caught the attention of Dr. Mahler from Denmark who was the WHO Director General. Dr. Mahler liked my adoption of a health oriented index with numeric terms for global health records and a principle for procedure applied to human bodies that decimated the variety of procedures with given outcomes. The chances of error and waste from the wide varieties of procedure reduce the quality of procedure outcomes and increase the cost of health care.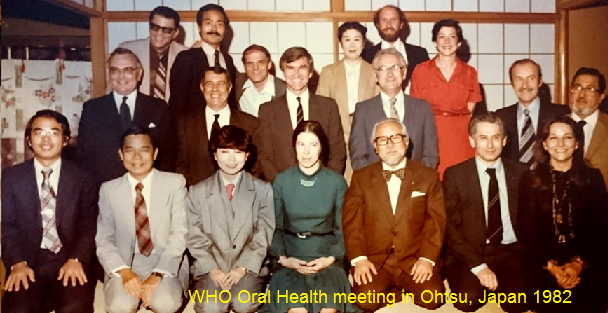 During the early 80s I was assigned by WHO to a project in Thailand that is an alternative to health care based on state accredited medical and dental schools. Dr. Thaworn was the founder and later dean of the second dental school in Thailand at Chiang Mai. She was upset with the state rules for making dental schools. She felt that the state accredited schools were not in the interest of the people with health problems and their community supporters. I had come to the same conclusion in Japan as a Nihon University clinic administrator.  Therefore we both agreed that there must be something better than expensive medical and dental schools that centered on the interest of teachers with patients at the bottom of an interest scale. The project started when personal computers were first introduced. I became aware that they could replace the need for nation accredited dental schools when we tried to link the computers in the health centers of groups of isolated villages. Computer networks were not developed at that time. If Internet and websites had existed at that time I have no idea what we may have ignited in resetting the field of health care before the number of medical and dental schools multiplied in the interests of the medical-dental trade, teachers, school administrators and associations of school graduates. WHO had linked me with a health ministry and key people in a well chosen country.
I was identified with 'performance logic' which centered on use of the human body while WHO was centered on health or optimum maintenance of human bodies. At least we were both centered in human bodies. WHO introduced me to many serious thinkers who would deeply consider meaning of words in a global perspective.
I was often asked about the core of performance logic where I often mentioned it could be best understood by Helen Keller who was a bright person blind and deaf from infancy and who listened through her finger tips placed on necks. I began to present my subject with masked eyes in large rooms that were arranged by people with masked eyes. The size, shape and positions of everything was 'propriceptively derived' through 'the feel' of safe places for body contacts while walking, standing, sitting, sleeping and working with fingers and feet while seated or standing. Light and color was deleted from judgment on health care space, work stations and paths of motion of body parts including fingers. Color only covered surface derived by sightless people. Skin covers and colors required to identify purposes of acts were exceptions to this rule.
My activities with WHO and worldwide courses stimulated an interest in programming computers in a global perspective when computer programs were being developed in projects of lesser scopes of concern.
Above all this global-local focus for health care needs a Global Knowledge Framework built into websites for the survival-safety-health economy based on prescriptions of experts.
WHO had appointed me to their panel of experts to serve from 1984 -1997 so I often mused on what to do with that identity.