Pearl Harbor was attacked when I was in high school. Later high school seniors were required to take a US government exam. We had no information about the exam beforehand. On the exam form we had to mark a choice of Army or Navy. I marked Navy because I assumed women liked navy blue more than army brown. Two of us passed the exam and were notified to go to the BIG city of Omaha. My classmate had marked Army so we went separate ways in the city. While in the room waiting for the interview a seat partner asked me what I wanted to study. Farming was the only thing I knew so he told me that the Navy did not offer agriculture. On the spot he said I had 4 choices –engineering, basic science, medicine or dentistry. He said that medicine and dentistry schooling was longer so that narrowed my choices. I am not a patriot so I wanted to stay away from a fight as long as possible. Medicine passed through my mind until he mentioned that his father was a dentist with a regular schedule and physicians had to go out at all hours. I thought about Doc Wertman who was our family doc coming 7 miles in a beat-up car one snowy winter day and the thought convinced me to study dentistry. I had gone to a dentist only once in my life to have a baby tooth pulled but fortunately –or otherwise- the interviewers did not ask many questions. I had never planned to be a dentist. In fact I have never made any long term plan to be anything in my life. Life has only been a series of happenings with on-the-spot decisions and projects that followed from them   Moving up title ladders, money ladders, recognition ladders or possession ladders are of no interest to me. I have always landed on top or remained on the bottom but never on the steps of a social ladder.
1943: 2 big moves –
The family had moved to Oregon where the rain made up for the lack of rain in Nebraska. I stayed behind to finish the normal training course to become a Nebraska certified teacher for 8 elementary grades.
The night of graduation from high school I went to Oregon where the military draft board was ready to pick me up, when I reached age18. A few days beforehand I made a pre-draft enlistment in the Navy to dodge the Army and Marines. They sent me to boot camp in Farragut, Idaho. I was a careless boot and was so bad that I was sent to the battalion commander for reprimand. Shortly after the exam results from Nebraska came to Oregon (records moved slowly in those days). I was called to regimental headquarters and told I could go home until the next class opened at a university. The boot company commander could not believe it! Nobody goes back home as a civilian in the middle of a war!! I decided to finish boot camp because if I flunked out of college I did not want to put up with being a boot again.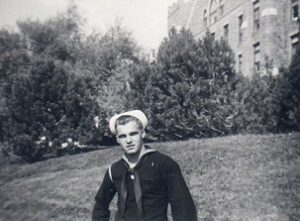 1940s College days –
I attended 3 colleges. The first was Carroll College in Montana where government students were scheduled to complete a 4-year curriculum in 2 years and 8 months. Many did not make it in the V-12 premed-dent program but they could get a commission as Navy pilots. We were not popular with the other servicemen who were fighting Germany and Japan. When anyone asked the meaning of V-12 we answered 'victory in 12 years or we fight'.  At age 18 I became a company commander of 84 ill-disciplined premed-dent students. One job was to line everybody up in the morning for inspection I was always the sloppiest including dirty shoes so maybe that is why I was renewed until the end of the war. We were called the fairy company because others thought we had homosexual tendencies The school was crowded so some of us roomed in the priest quarters of the Catholic school. Two medical schools offered me a Navy applied entry at the end of the war but I still remembered Doc Wertman's life so I stayed as a dental designate.
I next went to Oregon State University where I majored in chemistry and psychology. I was a dentist designate originally so I ended in the U. of Oregon dental school. I had many jobs during the school days in summer vacations and at nights in school terms including apprentice carpenter, brick mason, steeplejack painter, merchant marine, janitor, state police, etc. They were arm, back and leg work jobs but treating dental patients is finger work except for tooth removals, bending teeth straightening  wire and putting things into the mouth. I was popular with patients because I talk like a farmer.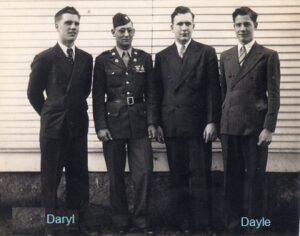 I married a beautiful tall woman while attending dental school. We have a son. After a long separation while I was in Japan we finally divorced. Our son grew up with another dad and I like to think he was lucky that I was not around. Years later when he and I became reacquainted I was most impressed with his gentle thoughtful manner that characterized his mom. Above all his judgment and abilities have impressed many others in a common endeavor that we are engaged in today.