This website posts late Dr Daryl Beach's personal views, stances and proposals. He identified himself as the commonist and globalist.
It was his wish that all peoples on earth live in peace with the best use of science and technology, overcoming conflicts of national interests or ideological differences.
He passed away in October, 2016, and left behind his papers/graphics/voice recording as his legacy to the next generation.  I am his wife, Yukie Miake Beach. I am trying to compile and post them in this website as much as I could.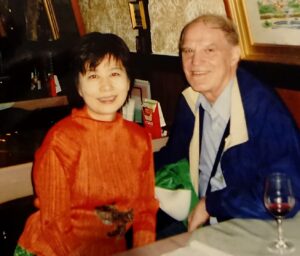 My primary role as Daryl's wife was a draft maker of his writing including personal letters, official messages, PPT slides for his lectures, etc. For, as his friends used to say, "Daryl never writes". While he was alive, I remained anonymous as a ghost writer. Now that he is gone, it is difficult to do so, because I can't cross check with him, when I need clarification.
So I decided to come out of a closet, and to put it upfront that I am held responsible for everything in this website. I hesitated to post my English without proof-reading. I was born and have lived all my life in Japan, so my English inevitably includes grammatical errors. Daryl often said to me, " I know you are a good writer, but your grammatical errors makes me climb up the wall. Ask someone else to proof read your English before I read it."
Though I hear Daryl saying "How dare,Yuki ! You can't do it." , I decided to post my writing without proof-reading.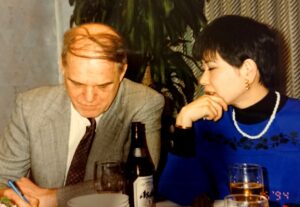 I have been wearing two hats in my career (two pairs of sandals in Japanese expression); Daryl's work partner and a conference interpreter in the field of health care. I got married with Daryl as his third wife in 1993. So much about myself. Someday I should create my own website and post my memoire to tell more about our married life.